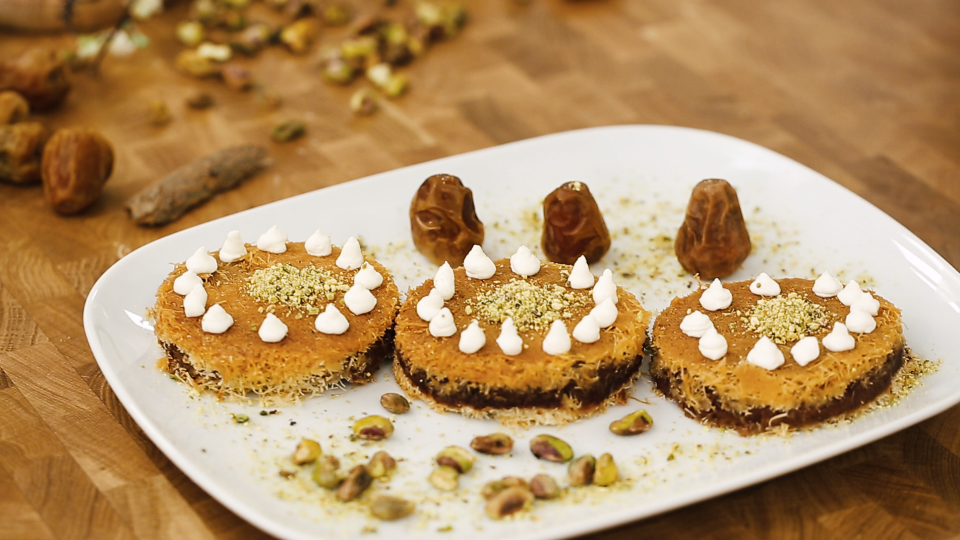 KUNAFA WITH DATES
Apr 28, 2020
Kunafa is one of the traditions of Saudi Arabic culture to celebrate special and happy occasions. Kunafa is one of the most popular sweets during the month of Ramadan since it provides the body with sufficient sugar for the fast. 
Stories on the history and origin of Kunafa are many. However, the most famous one says that Kunafa made its way to the Levant through the Turkish Ottomans, and then the Palestinians became renowned for their Kunafa, especially the Nabulsis who added cheese to it.
In the last few years, this delicacy has been subject to experimentation. Pastry Chef Anas, at Anjum Hotel Makkah, has attempted to add a modern twist to the delicious dessert, by introducing dates.
Ingredients:
150 g Kunafa
100 g ghee
400 g date paste
100 g cream
100 g melted sugar
Kunafa with dates recipe on youtube