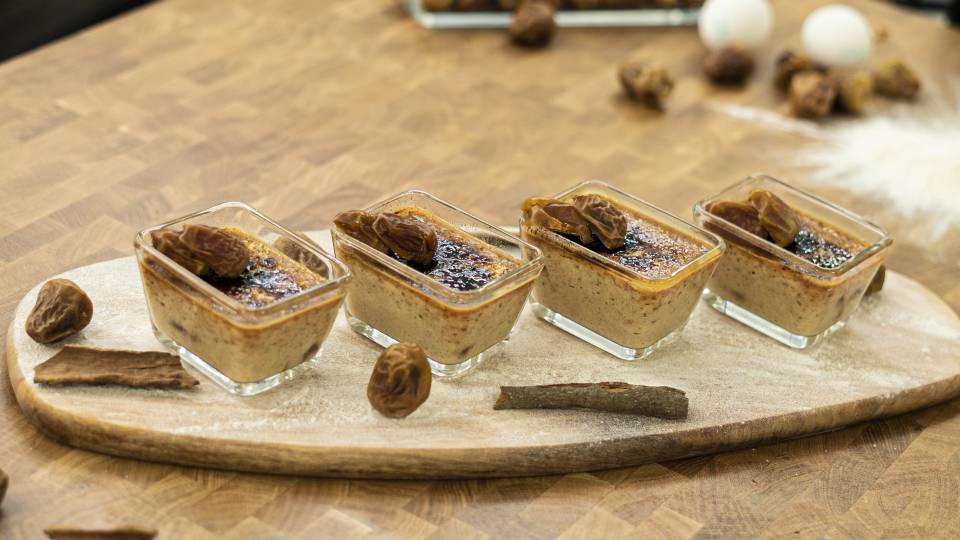 CRÈME BRULÉE WITH DATES
Apr 30, 2020
This week our Pastry Chef, Halawani Abdel Rahman, at Anjum Hotel Makkah, is bringing you the history behind the delicious Crème Brûlée.
Crème brulée is a dessert that simply radiates refinement and simplicity. You can't resist the pleasure of breaking a thin layer of crunchy caramel to discover the vanilla delicacy of a French Crème Brulée.
This simple dessert is a true French classic, dating back to the 1600s. Versions of the dish exist in Catalonia and the UK. Food historians note that dessert was popular in the Middle Ages, and recipes for Crème Brulée circulated widely through Europe. 
Our Pastry Chef's classic Crème Brulée recipe will help you to achieve the perfect custard wobble and crisp caramel topping.
Ingredients:
1 L of fresh cream
10 egg's yolks
100 g of sugar
1 g of cinnamon powder
2 g of vanilla sugar
130 g of date paste
Delve into this delicious recipe, a signature dessert at Anjum Hotel Makkah and guests' favorite.

Crème brûlée recipe on youtube